Events
Enrollment 1
Enrollment 2
Online registration and document upload
5 Oktober s.d. 10 November 2022
29 November 2022 s.d. 3 Januari 2023
Payment of registration fees
According to the schedule indicated on each payment code
Verification of registration documents
7 Oktober s.d.16 November 2022
1 Desember 2022 s.d. 10 Januari 2023
Substance test by the destination Study Program (if any)
17 s.d. 19 November 2022
11 s.d. 14 Januari 2023
Announcement of selection results
29 November 2022
24 Januari 2023
Online registration for those accepted
30 November s.d. 3 Desember 2022
25 s.d. 27 Januari 2023
Announcement of registration verification results and the amount of Single Tuition Fee (UKT)
6 Desember 2022
28 Januari 2023
UKT payment period
6 s.d. 9 Desember 2022
28 s.d. 31 Januari 2023
Printing of Registration Proof (through Simaster account)
Start from 6 Desember 2022
Start from 28 Januari 2023
Start of academic activities
Februari 2023
For postgraduate program registration, visit the following link: https://um.ugm.ac.id/
ADMISSION OF NEW STUDENTS FOR THE ACADEMIC YEAR 2022-2023 DOCTORAL PROGRAM IN PHARMACEUTICAL SCIENCES, FACULTY OF PHARMACY, UGM (ENROLLMENT II)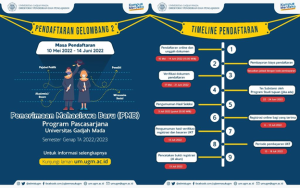 Administrative Requirements for New Students for the Academic Year 2022/2023 Doctoral Program in Pharmaceutical Sciences, Faculty of Pharmacy, UGM (Enrollment II)
Administrative Requirements for New Students in the Regular and By Research Programs for the Doctoral Program in Pharmaceutical Sciences, Faculty of Pharmacy, UGM:
Minimum Academic English Proficiency Test (AcEPT) Score of 268 or English language proficiency recognized by UGM equivalent to a minimum TOEFL score of 500.
Minimum Test Potency Academic (TPA) Score recognized by UGM equivalent to a minimum of 550.
Dissertation Research Outline (can propose a maximum of 3 topics; file extension .pdf).
Form of Supervisor's Willingness (mandatory for the By Research track; optional for the regular track). Download the form here.
Proof of Registration at UGM, and for scholarship applicants, submit proof of scholarship registration.
Applicant's CV (Click here).
The admission of new students is based on the results of administrative selection and Interview Test according to the schedule set by the program.
Complete administrative application requirements should be uploaded through the following form: http://ugm.id/BerkasPendaftaranDoktorFarmasi
We would like to express our gratitude for your cooperation.